It's said that first impressions are important, and certainly this is true. But, as we celebrate our centennial season at Ceta Canyon, second, third, and even forty-fifth impressions offer insights into Ceta life that no first impression can capture.
This past week at Ceta has been one of fun and excitement with the annual visit from Camp New Dawn, which is a five-day retreat for adults with special needs. Some campers and counselors came this year for the first time, and others have been participating for decades. Volunteer director, Sharon White, has been apart of Camp New "on and off for 45+ years." Her co-director, Jeri Lynn White, has also volunteered with New Dawn for multiple decades. This past week marked her twenty-first visit to Ceta.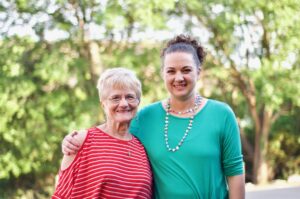 Both women (pictured at right) have found that Ceta is undeniably a special environment. "I get a peaceful feeling when I enter the camp from the 'top'," Mrs. Sharon said. Out here on FM 1721, civilization is just about a distant memory. The canyon walls surround campers and wrap them in a giant hug. "I love the fact that I feel the presence of God here in this quiet place," Mrs. Jeri Lynn said.
Along with the uniqueness of the environment, for camps as long-running as New Dawn there is a complimentary familiarity. Both Mrs. Jeri Lynn and John Barnhart, who has been a volunteer since 1983, find Ceta to be inextricable from Camp New Dawn.
"I love this canyon, but what draws me back are the people – the family of Camp New Dawn – close friends[hips] with volunteers, and campers for years. You become family, something that can't be experienced unless you've been in the beautiful canyon with each other," Mr. Barnhart said.
One fantastic example of the familial bonds Mr. Barnhart mentions is the New Dawn Olympics. (Below is video of this annual event.) Besides the activities, each volunteer emphasized their love for the people. Here at Ceta, Camp New Dawn is full of happy campers and happy volunteers.